...a page dedicated to making my mind a better place to hang out...
---
Other People's Stuff
Technically Rachel
Brontone
Random Creature
3xBlah!
Babble, Blarney & Bull
Polyphiloprogenitation
Easy Cheezy
Implicit Lychopsy
Innerminx
Cornish Confucion
Skint Writer
Debi Alper
More Silage
Manchester's Premier Bassist ...

Leisure Stuff
Don't Panic
Flashmob
Deviance
Nanowrimo
CoV
Utopia
Global Conflict
Curveball
Wizards
SinCity
Lifehacker
Games

Comics
Night Warrior
Goblins
8Bit
Pawn
Level

Resources
Work? Nah...
Fiction Addiction
Competitions
Theatre Jobs
Cluetrain
Smaller than Oregon
Instant Atlas
Logic
The Bible
Hyperdictionary
EtymologyOnline
Speed Accents
History Reference
Blue Room

Shops
Gift Ideas
ThinkGeek

Mail
Hotmail
Gmail
Aol
Facebook

S t a g e
M a n a g e m e n t
Perplex City
Unfiction
Trades



Dead People's Stuff
Sianodel
Seren
Goulden Moments
Spice's Bloke
Spice's Blokes Brother
Small Yappaty Pedog
My Reviews
The Wandering Wemic
Southern Bird
Write here - Right Now

---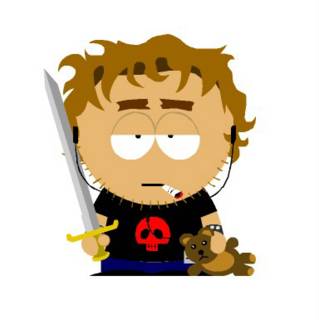 "I might seem to be empty handed. But I was sure of myself, sure of everything, surer than he was, sure of my life and the death that was coming to me. Yes, that was all I had. But at least it was a truth which I had hold of just as it had hold of me. I'd been right, I was still right, I was always right."

Albert Camus
"The Outsider"






---
concepts for a buntiful world
Sunday, July 13
©2003 Daniel Staniforth Opinions and rhetoric expressed on this site may not correspond with the true beliefs of its author or his peers. The author cannot be held responsible for any mental anguish caused in the reading of this site, nor can he be held responsible for the factual accuracy or inaccuracy of the site. Please smile while reading this message.